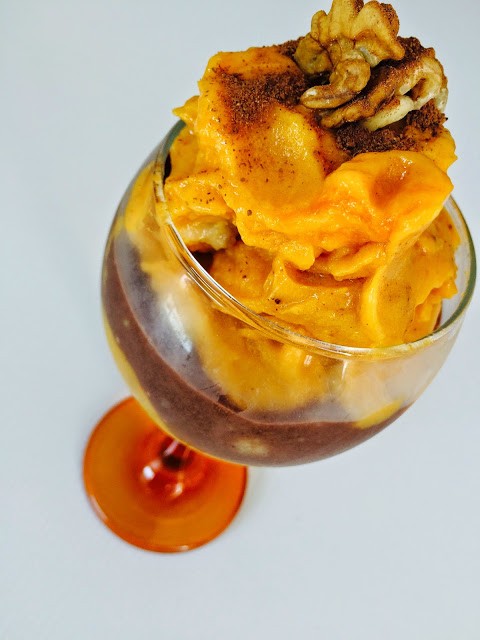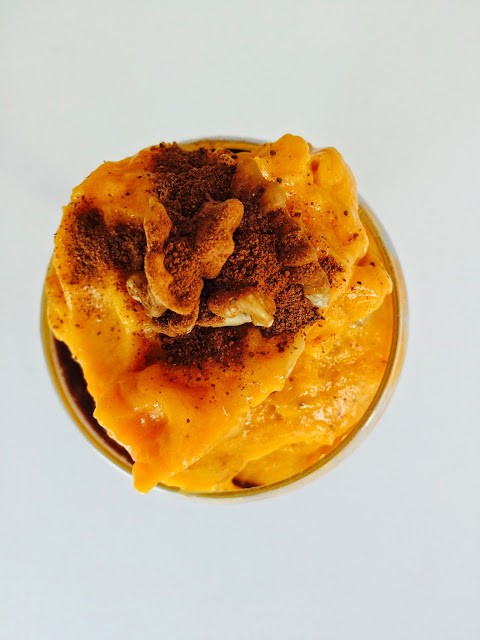 The weather is brilliant, my beautiful daughter is cheery and here, beside me. Spring is coming and the depressing February is coming to an end…Outside, the little plum tree we planted while I was pregnant to Bade is already blooming. What else do I have to do but dream of spring ? Spring is my favourite season simply because I was born on it. To me, winter is too cold, summer is too hot and autumn is too gloomy. Spring is the only season where everything is moderate, alight, cheery and beautiful. First of all, it carries hope inside. The hope of new and unexpected and beautiful things to happen. And today I am hopelessly hopeful. Soon, very soon, everything will be much better…
And a recipe to match such a beautiful day is awaiting you below…
Ingredients:(Recipe for 1)
For the pumpkin ice cream
– 1 small baby banana (frozen)
– A thin slice of a medium sized pumpkin (steamed and frozen)
– 2 tblspns coconut milk or cow or goat milk/kefir
– 1 tspn honey(or more) (optional)
For the chocolate ice cream
– 1 small baby banana
– 1 tspn cocoa
– 1 tspn honey(optional)
– 1 tspn coconut milk or cow or goat milk/kefir
For decoration
– Cinnamon and walnuts
Instructions:
Blend pumpkin ice cream ingredients until smooth in a food processor, do the same for the chocolate ice cream ingredients. Fill them on a glass cup, decorate, serve and enjoy!