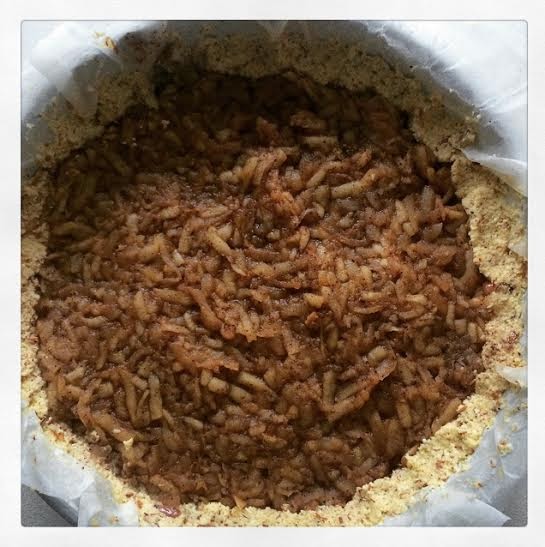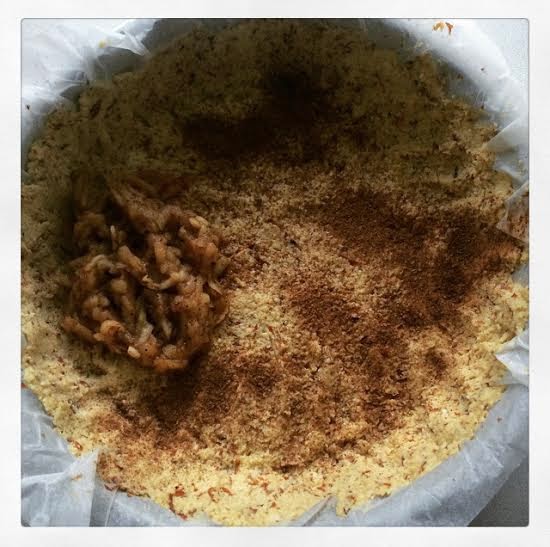 Today I have tried another flour and sugar free recipe for Bade : Apple Pie! When my mother tasted it she asked me : "Are you sure there is no sugar inside ?" This recipe definitely replaced the traditional one in our kitchen.
Ingredients:
For the dough:
– 1 cup of almond meal and 50 gr. shredded coconuts.
– 1 pinch of himalayan salt
– 1 pinch of baking soda
– 1/2 cup of olive oil
– 2 eggs
For the filling:
– 3 apples
– 2 tblspns cinnamon
For topping:
– A handful of almonds, raw cashew nuts and dried currants (each)
– 1 tablespoon of olive oil, 
– 1 tablespoon cinnamon
Instructions:
Cover your mold with parchment paper. Mix the dough ingredients, knead and spread the dough on the bottom of your pie mold. Peel and grate the apples, add cinnamon and cook until soft. Cool. Spread the filling on top of the dough. Blend the cashew nuts and almonds until they are very small, mix them with dried currants, olive oil and cinnamon and sprinkle all on top of the pie. Bake for 35-40 minutes until it turns golden brown.