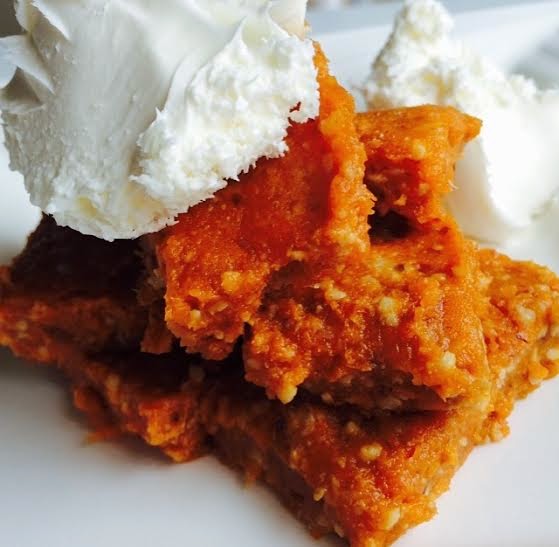 I am absolutely crazy about pumpkin desserts. I think pumpkin has a very special taste. But we have such a bad way of baking it that it feels like we wish to spoil its taste. It's such a shame to add so many refined sugar on top of it. Here is an alternative for those who love pumpkin dessert but dare not touch it. Its also an ideal family snack for Sunday. Both my husband and daughter loved them. Kaymak and Pumpkin really go well together!
Ingredients:
– 5 medium sized raw pumpkin slices
– 1 cup crushed walnuts
– 10 medina dates
– 1 teaspoon cinnamon (optional)
* 1 or 2 tblspn honey/molasses for a sweeter taste (optional)
For topping
Clotted Cream / coconut cream
Instructions:
Peel and slice the pumpkins. Steam them until they're soft. Add pitted dates, cinnamon and honey/molasses for a sweeter taste (I didn't and the taste was just fine),  blend in a food processor until smooth. Add walnuts, stir well, press and spread the mixture to a square shaped mold. Freeze for 2 hours, slice and serve with kaymak/coconut cream.