---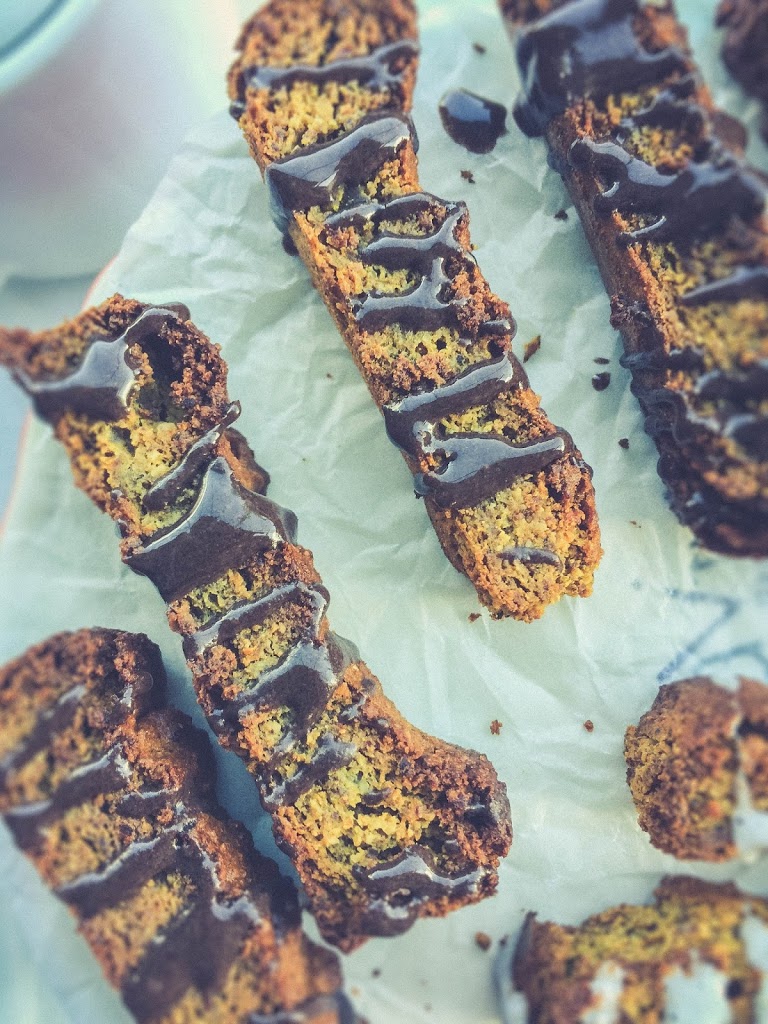 ---
There are small joys in life. Like listening to my daughter play by herself while making a milky cup of coffee in my warm home, on a cold, windy, rainy day. And dipping my delicious smelling hazelnut and pumpkin biscotti in my coffee.
---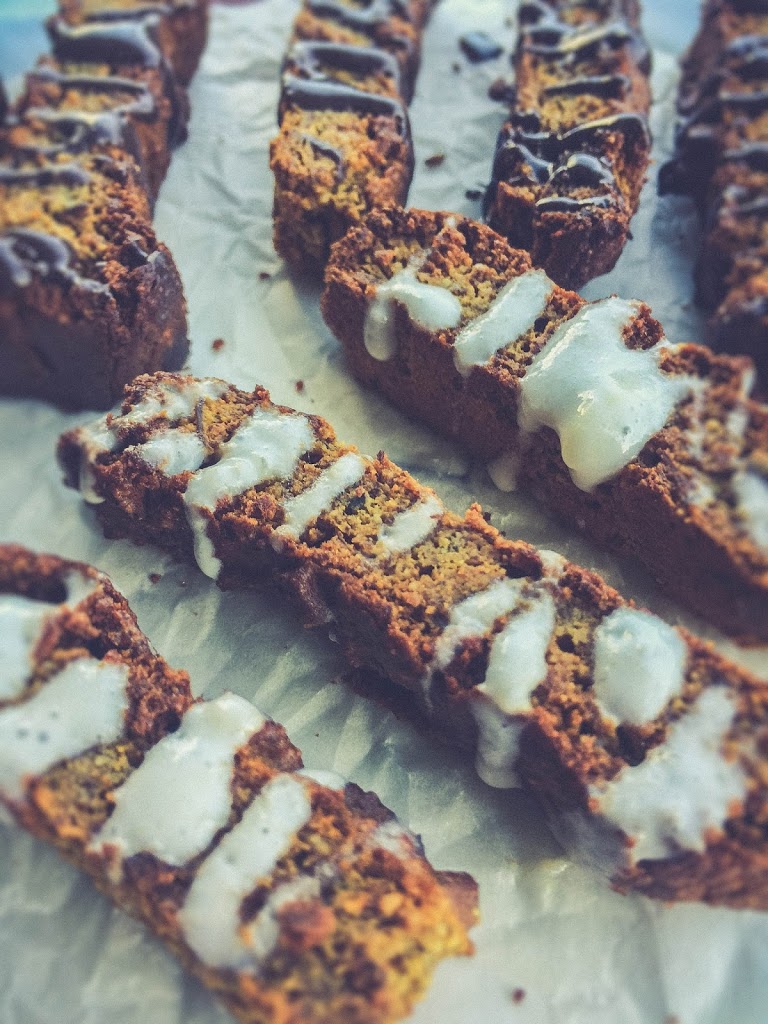 ---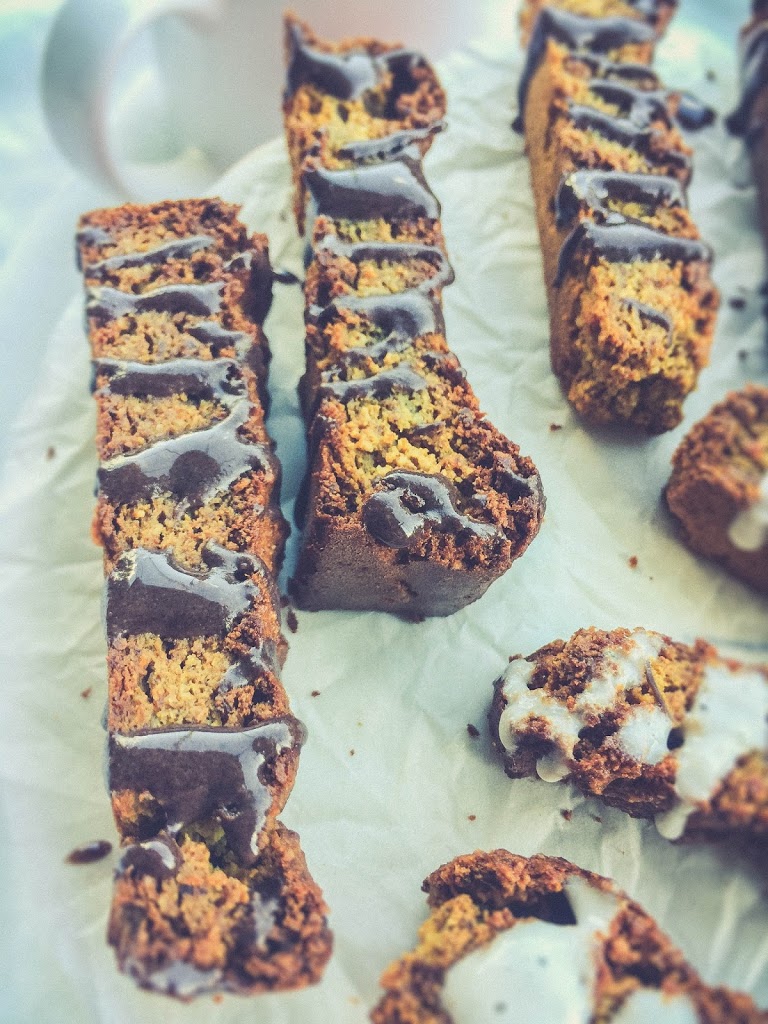 ---
Biscotti is an Italian delight, as the name suggests, and is also called cantuccini. It contains high amounts of sugar and flour. And also has a worldwide tradition of being consumed by dipping inside coffee. It is possible to find lots of flourless biscotti recipes but I found most of them absurd or misshapen. I have read lots of recipes and did not feel like making even one. Then, I made my own recipe. Which makes 12, requires very few ingredients and happens to be very delicious.
I have one word: really tasty.
The key point is to be gentle, as they tend to crumble since they contain no flour etc.
---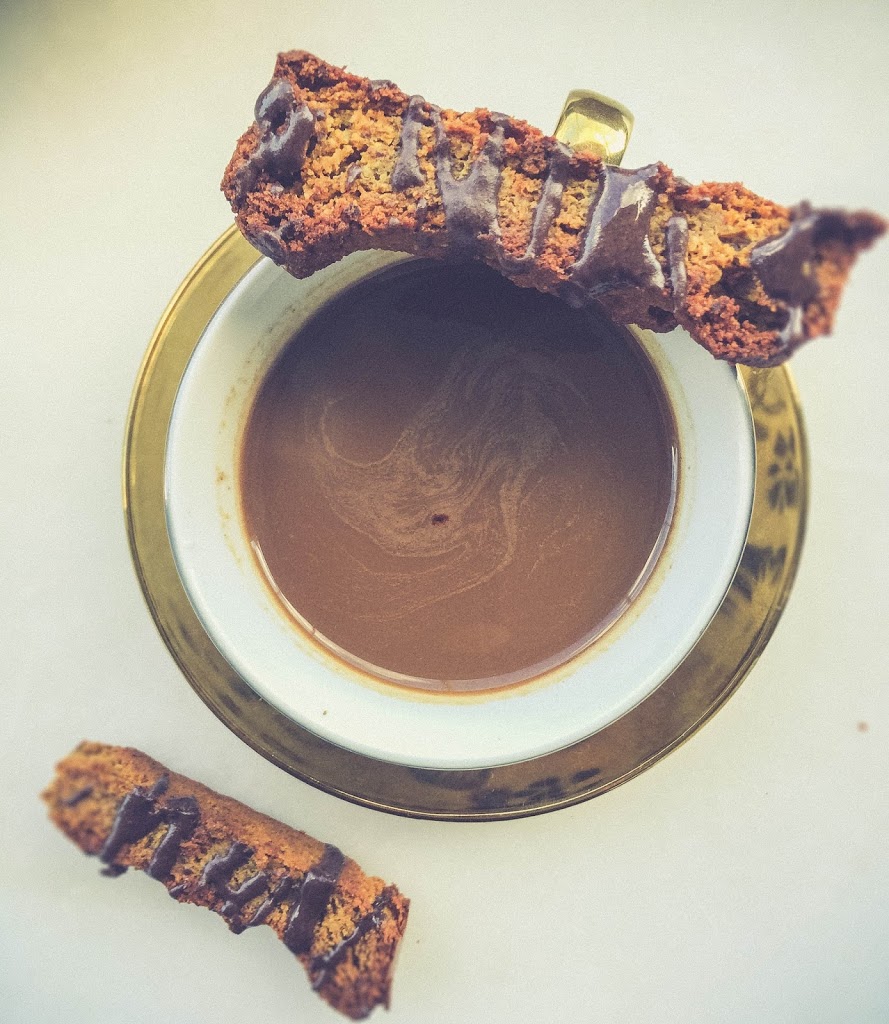 ---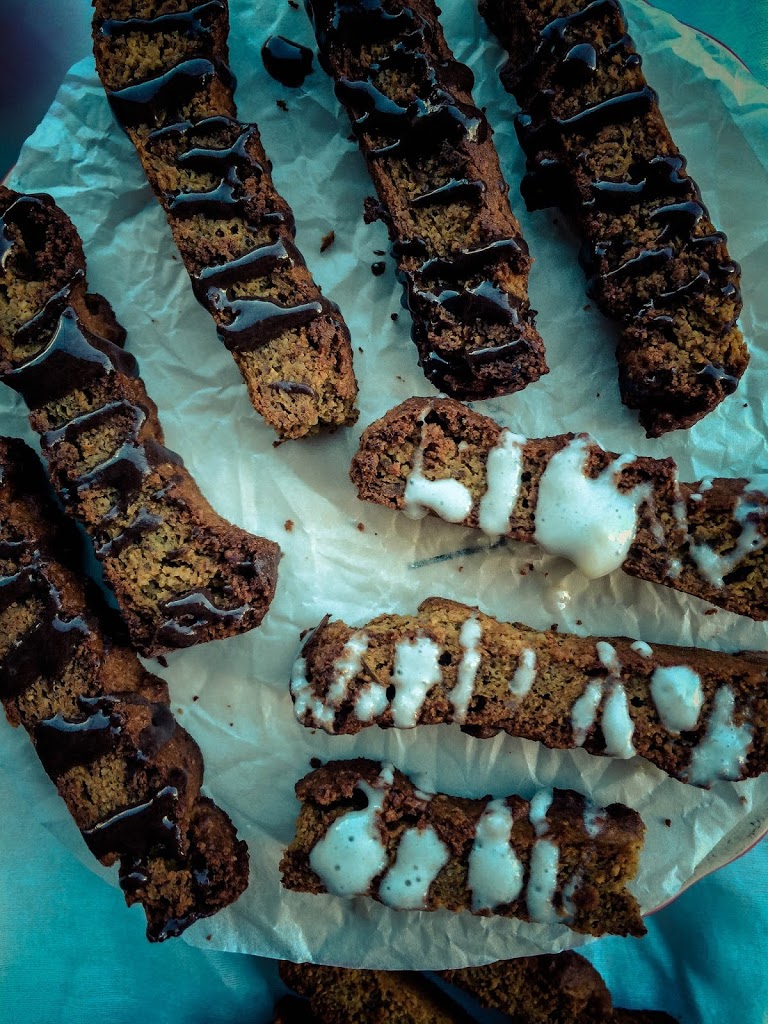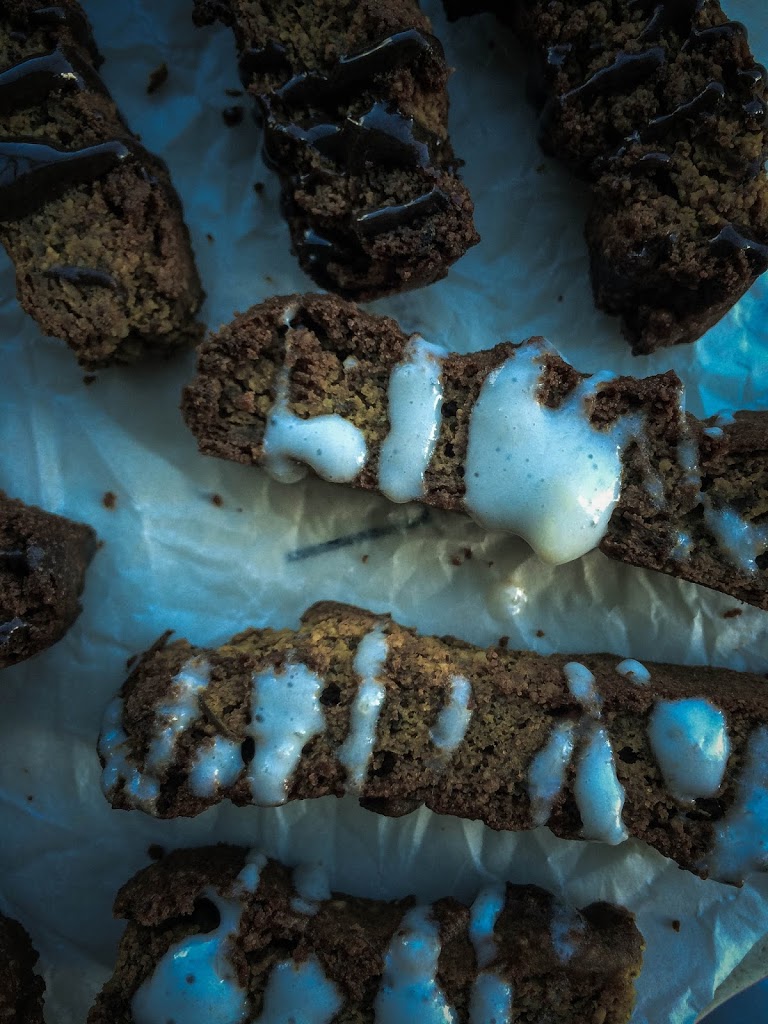 For the biscotti
1 egg
1 pinch of rock salt
1 tblspn honey or any other natural sweetener of choice
¼ cup of melted butter or coconut butter
1/2 tspn baking soda
1 cup hazelnut flour
1 medium sized slice of pumpkin (or ½ cup of pumpkin puree)
1 tspn cinnamon
1 tspn grape vinegar (homemade)
For the Chocolate Icing
¼ cup of tahini
1 tblspn cocoa
1 tsp honey
For the White Lemon Cream
1 small, baby banana
¼ cup kefir
1 tspn lemon juice
1-3 drops of vanilla extract
Instructions:
1-Set oven to 180C, slice the pumpkin and bake for 20 minutes.
2-Remove but don't turn off your oven.
3-Puree the pumpkin in your food processor, set aside.
4-Mix egg and salt. Add honey, baking soda and butter, continue mixing for a few minutes. Add 1/2 cup pumpkin puree, hazelnut flour, cinnamon and vinegar, keep mixing until you end up with a thick cake batter.
5-Pour the batter in a silicone 8×20 cake mold, bake for 30 minutes or until the top turns golden.
6-To make the White Icing pulse the listed ingredients, to make the Chocolate Icing mix the listed ingredients.
7-Remove the cake, cool it and slice very carefully.
8-Set your oven to 180C, place a parchment paper on your baking sheet.
9-Carefully place the slices on parchment paper. Bake for an another 10 minutes. Remove, turn over the slices and bake for an another 10 minutes.
10-Remove the biscottis, cool. Drizzle them with your icing of choice and with the help of a fork. Serve. Enjoy.
---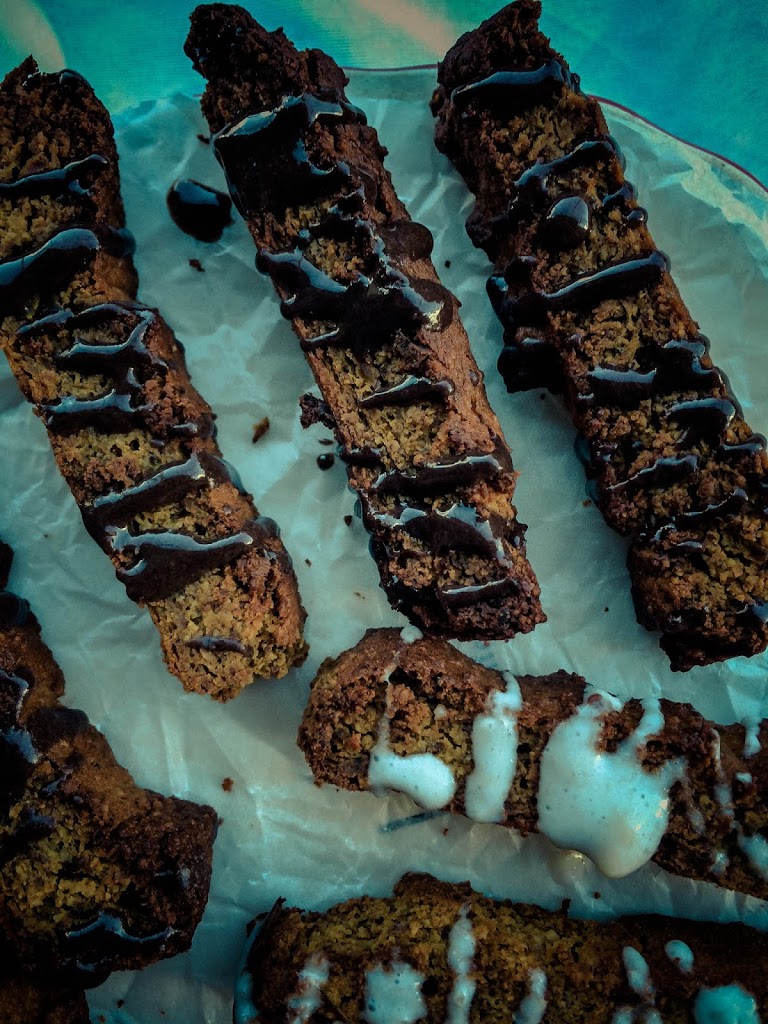 ---