---
Being active is soo good for Bade's blood sugar.
The other day we went to this playground, she started to play with a little girl and I began to chat with the girl's mother. And I made the horrible mistake of mentioning her having type 1 diabetes.
Then Bade's lunch time arrived. The little girl did not wish to let her new friend go. So her mother intervened and actually uttered these words right beside Bade :
"Let her go home dear, your friend is sick. She needs to eat."
Such a small sentence to cause such a deep damage…
Should I have hidden the fact that my daughter is a Type 1 ? Of course not.
A diabetic child should not be treated as a sick person, he/she should not be spoiled because of this disease, he/she should not be treated with extreme privilege.
One day in the future, my daughter will meet other insensitive people just like this awful woman. Some will be her friends, or her teachers or maybe a guy she likes. With her small broken heart she will run back at me, and ask why she is different, ask why this had happened to her and she will tell me she no longer wants to be a diabetic.
My answer will be this : "Never forget what you are, for surely the world will not. Make it your strength. Then it can never be your weakness. Armor yourself in it, and it will never be used to hurt you."
I once learnt these words from a very smart dwarf.
Thanks Tyrion.
As for the recipe,
This cake turned out to be amazing with its exceptional color, taste and smell. Imagine the incredible yumminess of a jar of peanut butter…but this time in a muffin!
Luckily my daughter loves peanuts and is not allergic, so I can bake this for her anytime she wants. I have to inform you that she cracked open the peanut shells herself! Cute little fingers are really good at cracking these little fellows open. Of course she kept stealing when she thought I wasn't looking, so that was fun as well.
The result is exceptional. Which contains no grain, refined sugar, additives. Pretty healthy too!
Grain free Peanut Meal Muffin
-Recipe anonymous-
Prep Time: 15 min
Cook Time: 35 min
Serves: 4 small muffins
Ingredients :
1 medium egg
1 medium banana
1 cup (100gr) shelled peanuts (roasted, with no salt added)
1 tbspn grape molasses
1/2 tspn baking soda 
1 tbspn butter/coconut or olive oil
Instructions:

1-Set the oven to 200C
2-Mix the egg. Pour all ingredients in your food processor. Blend until smooth.
3-Bake for 35 min, until golden.
4-Cool and serve.
---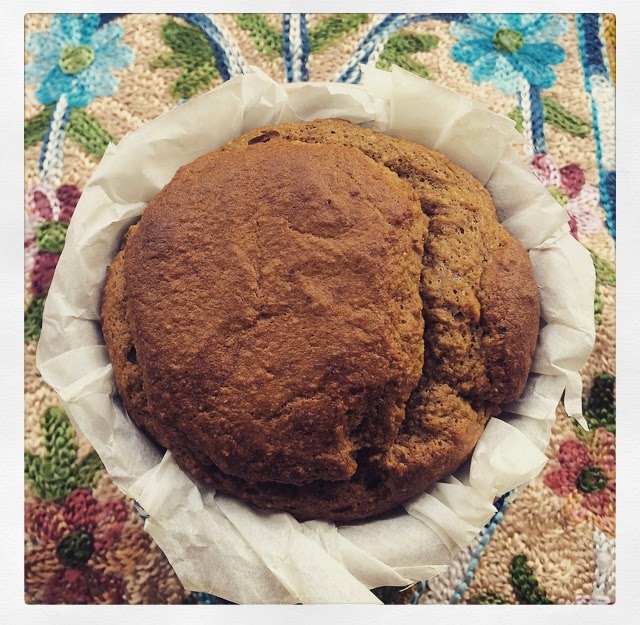 ---