---
If you are reading this you might be one of us: those who fear  the holidays.  As Ramadan Holiday is coming up, I have to say  I am not feeling very comfy.
I remember that once, on a different holiday, I had made the mistake of forgetting Bade's finger pricking thingy at home. My husband had to return all the way back home so we could check Bade's blood sugar and give her some lunch. Some people really are unaware how easy their lives are.
The families or friends you are visiting probably will not know or care about the details of your specific diet. They probably will have all kinds of chemical candies and chocolates all over the house. Or  pies and pastries and all that usual holiday stuff…
For example, whenever I go to my grandma's for holidays I am always welcome with rice stuffed vine leaves and famous Turkish desserts like Revani (wet sponge cake dipped in syrup) and Sekerpare (a round shaped pastry dipped in syrup). I tell myself how rare these occasions are and dig in mercilessly. However, many of my readers are on such restricted diets that they cannot afford to do the same.
When delicious meals are served, you will probably crave them. That's alright. You can tell yourself you are an adult and refuse..but what if the person craving them is your child ?
What if he pops something in his mouth and months of effort go to waste? Perhaps you are simply sad that she will not be able to eat as much as she wants. Is there a chance you called the people you are visiting in advance and asked for them not to offer certain things? Perhaps you are carrying gluten-free candies in your bag ?
Bade will probably run into kids eating candies this holiday. Let's say she wanted one and had it. I doubt that she will say "I had one and I am satisfied, now I will keep on playing and ignore other kids whose mouths are covered with chocolate." That would be strange, right ?
…
I know its hard, dealing with diseases is hard. Diet is hard. Eating healthy is hard.. God knows how hard it is.
But it's not impossible.
Wishing you all a great Ramadan Holiday.
---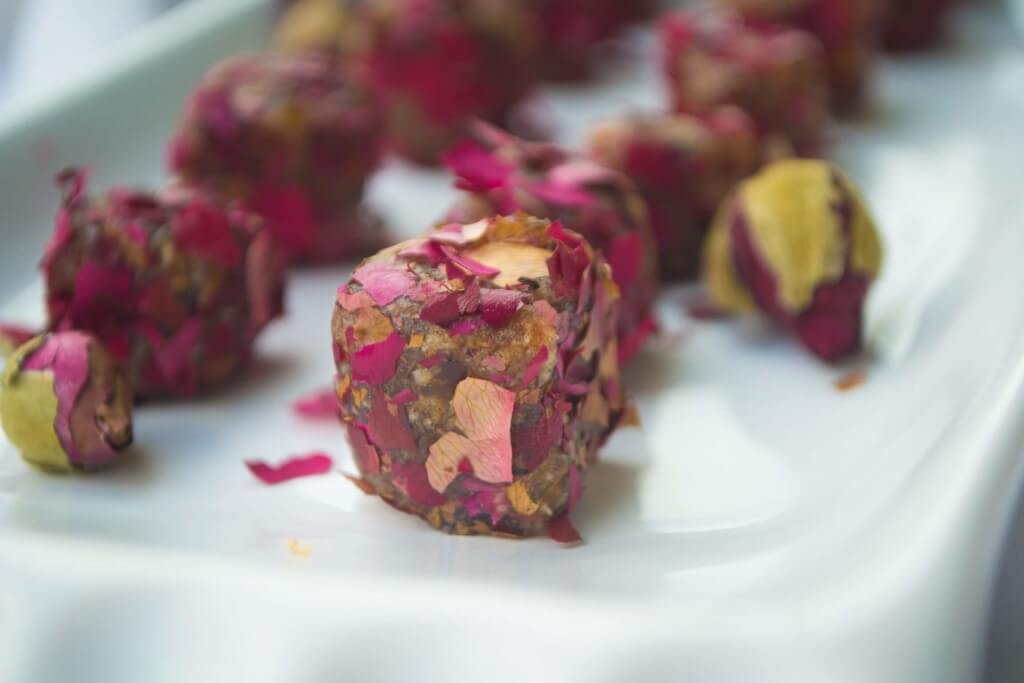 ---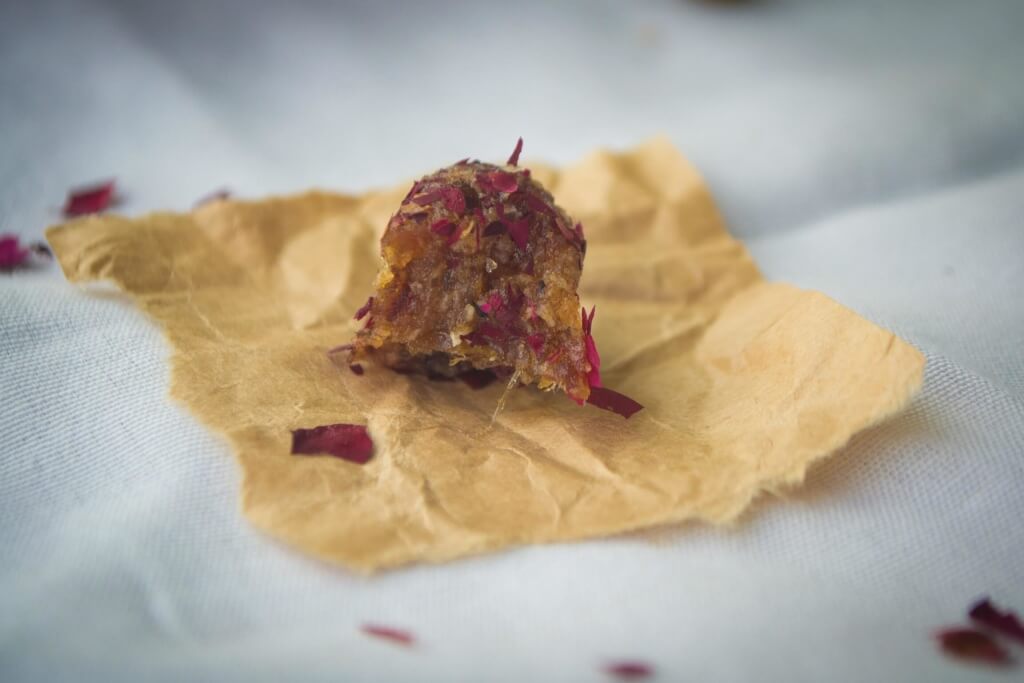 ---
Grain free Rose Petal Turkish Delight
Prep Time: 30 min
Serves: 30-35 pcs
Ingredients:
For the delights
20 dates (160-180 gr)
6 tbspns(30 gr) unsweetened shredded coconut
2 tbspns rose water
For the coating
30 gr edible & dried rose petals
Instructions:
1-Soak the dates in warm water for 30 min. Pit and pulse in your food processor with rose water&coconut until a sticky dough forms.
2-Place the dough in your kitchen counter, shape it into a long rectangle and slice small squares.
3-Dip the squares in rose petals, place in your refrigerator for 2 hours to set. Serve.
Notes:
*If you are not a fan of rose petal Turkish delight, feel free to add pistachios, hazelnuts, walnuts, vanilla inside instead. You can coat them with sesame or shredded coconut instead.
**Saveur Best Blog Award Nominations have begun. It would be very kind of you to spare a few minutes and nominate Bade'nin Sekeri in Best New Voice category. Here's the link! http://www.saveur.com/blog-awards-2016-nominate