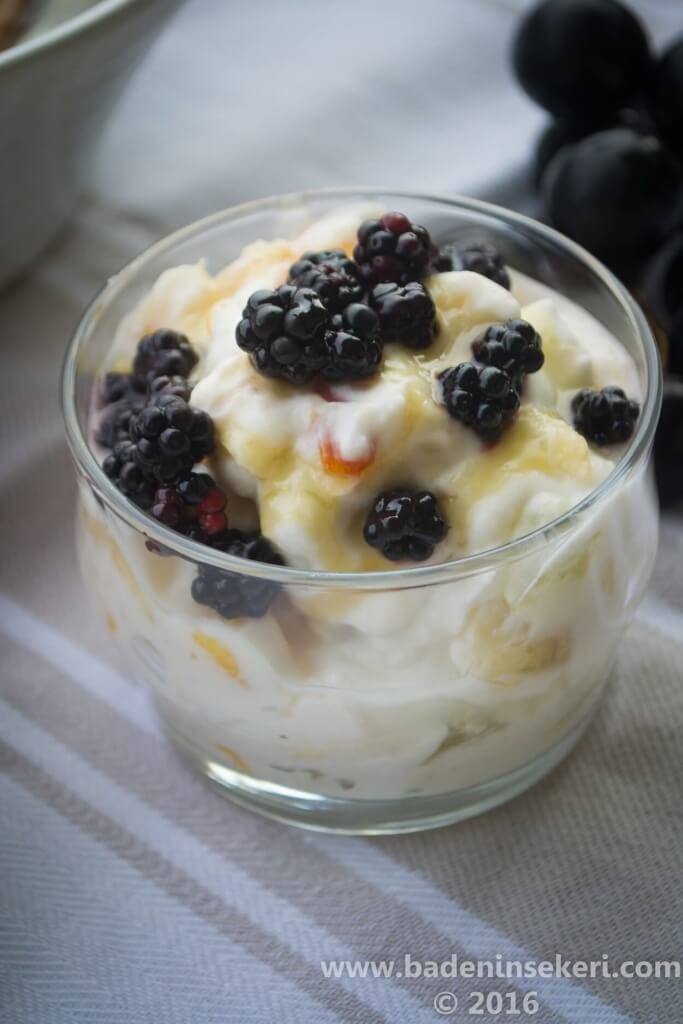 ---
I must have been at prep school or something, but it was a time during which all Turkish people started to get rather tight with packaged and processed food. And one day we met powdered cream Chantilly (or whipped cream) in a box.
We loved it even more than usual because they were so easy to make. Just add a glass of cold milk or water and whip it up! My mom turned that magical powder into an even more magical cream and made amazing cakes.
But my favourite was the fruit salad.
Cubed fruit pieces (always banana, apple, orange and kiwi) meet the cream and go to freezer. And mind you, they had to be served just before they freeze up, so the timing was of ultimate importance.  In those days we could find kiwis only in a big store called Metro, and they usually tended to be sour & burnt my tongue so I always left green pieces off.
Now I understand this dessert was my mom's way of using leftover fruit but I was so fond of it I can still taste it in my mouth. In my mind we all gather around TV and I hear that familiar background music which announces the beginning of Parliament Sunday Night Cinema Club's latest movie. Then my mom comes in with fruit salad cups in her hands, with all her very blond and very tanned glory.
Nowadays people are not very fond of powdered cream chantilly. My husband makes a grimace when I mention and asks me how could I love such a "filthy, greasy, disgusting" thing.
Well, we all have secret and weird tastes, right ?
Of course original cream chantilly is a delicious thing, made from heavy cream,granulated sugar and vanilla. But this must have seemed not unhealthy enough to some people because the powdered version is much worse. Similar to a science formula. I even looked it up, see.
Ingredients: Sugar, powdered glycose syrup, hydrogenized vegetable oil, emulgator, modified potato starch, dextrose, fat-free milk powder, aroma, thickener.
Of course I could have simply mixed homemade milk cream with honey and vanilla but I had Coconut Milk at home so this recipe ended up casein-free. It was for myself alone, and I'm glad.
---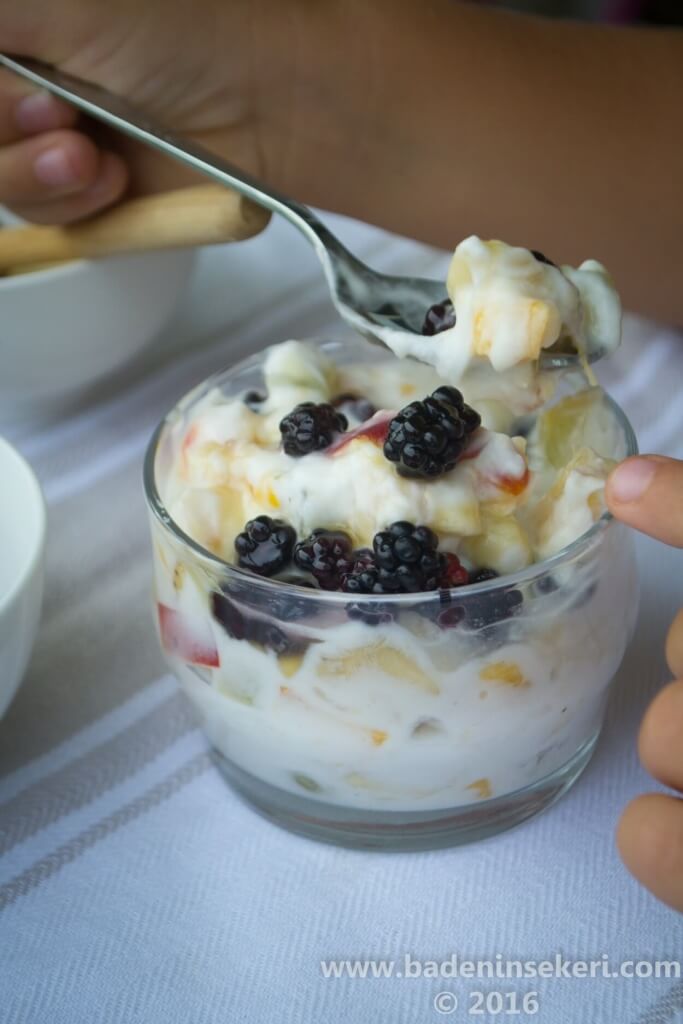 ---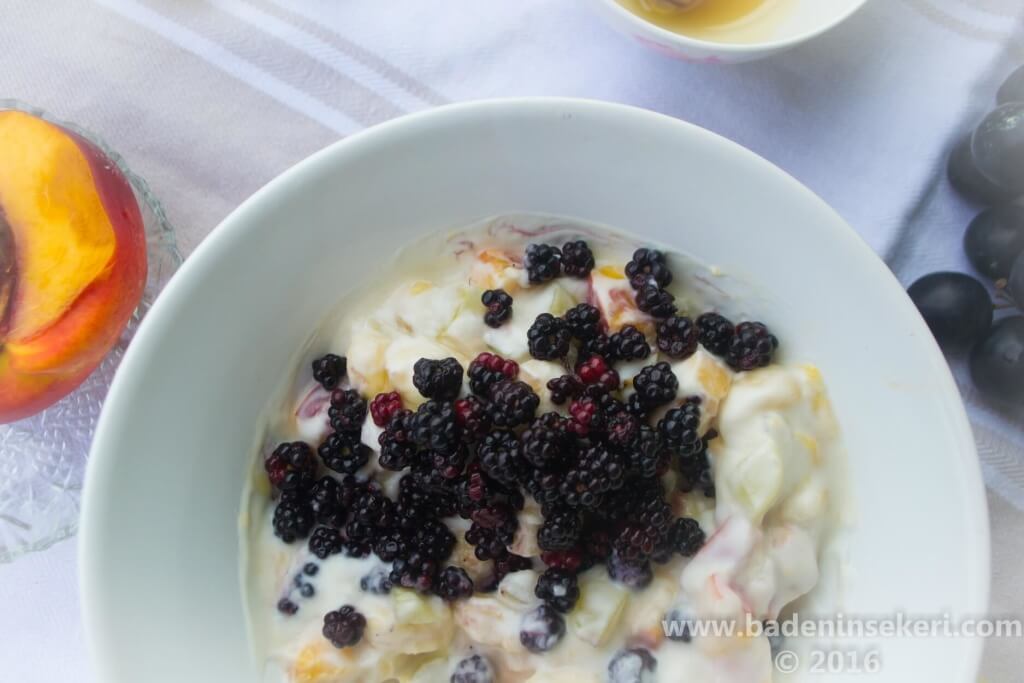 ---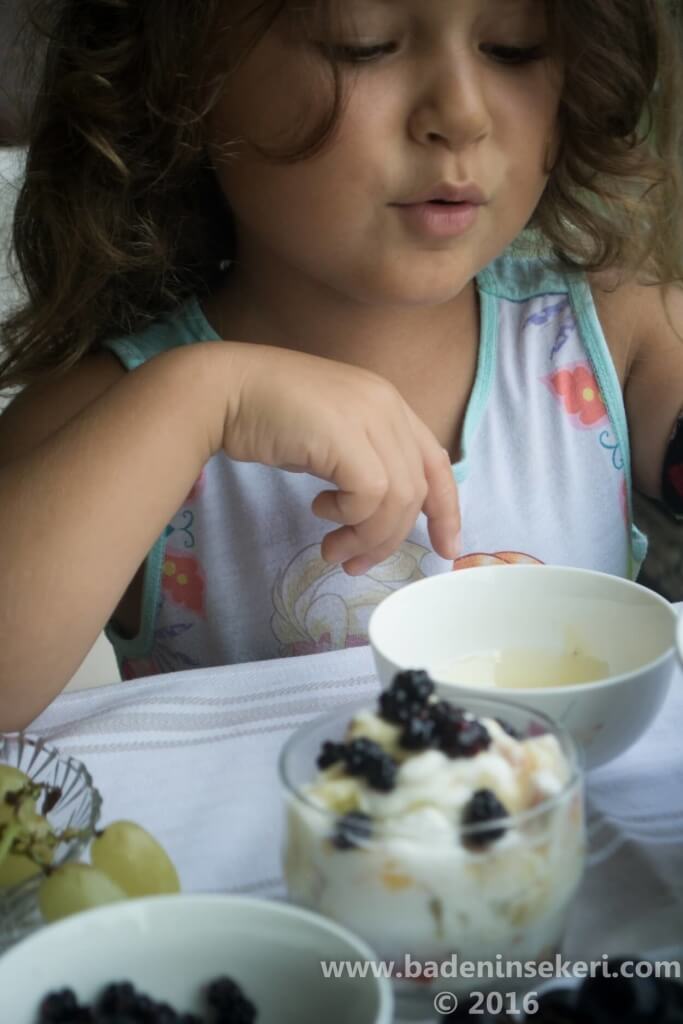 ---
Paleo Fruit Salad
Prep Time: 20 min
Serves: 3 servings
Ingredients:
For the Cream Chantilly
400 ml Coconut Milk (refrigerated overnight)
1 tbspn honey (20 gr)
½ tspn vanilla extract (optional)
Fruits*
1 medium banana
½ medium apple or peach
A handful of green fresh grapes
A handful of wild berries
Instructions:
1-Separate the thickened cream from the liuid part of the can.
2-Cube and mix the fruit. Add the coconut cream, honey and vanilla on top.  Mix with a spoon, split to cups and freze for 15-20 min. Serve.
Notes:
*Feel free to use any fruit you like, but banana is a must.